Checkout the fashion style of your favorite Gossip Girl character. The fashion styles below can be seen on Monday at Gossip Girl Season 4 Episode 5.
Serena: Dolce and Gabbana shorts, Madison Marcus top, Mulberry bag, Maloles shoes, and Fallon necklace.
Blair: Nanette Lepore dress, Nancy Gonzalez bag, Mechante shoes, and a Tiffany's necklace

Serena: Gypsy 05 top, Wayne skort, Susana Galvanis necklace, Yves Saint Laurent bag, Giuseppe Zanotti shoes and Stephen Dweck ring.



Juliet: Dolce and Gabbana blazer, Wayne dress, CC Skye bag, Sequin necklace.



Juliet: Hugo Boss dress, Stephen Dweck necklace, Botkier bag, Louboutin shoes.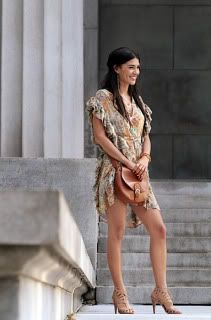 Vanessa: Catherine Malandrino dress, Radley London bag, Pour la Victoire shoes, Stephen Dweck necklace.

Source: InStyle.com